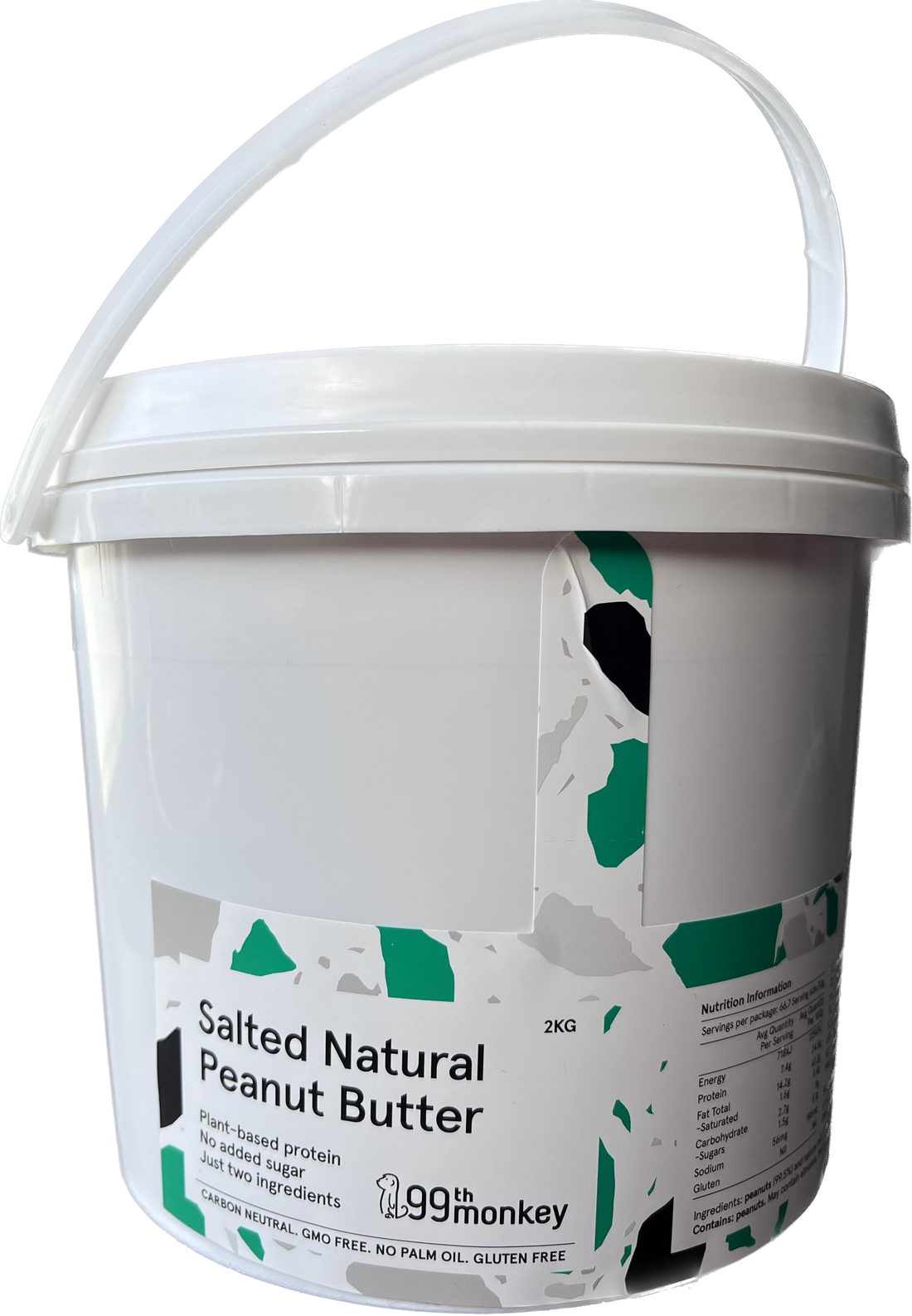 Our Monkeys crush the freshest, tastiest Australian peanuts into a creamy yet crunchy consistency, sprinkling natural salt as they grind. We believe this creates the best peanut butter in the world - to spread or dollop on anything you like!
Just two ingredients: Roasted Peanuts and Natural Salt.
Information
99th Monkey exists to spread the joy of simple, delicious food. That's why we make our products in small batches, carefully sourcing only the finest...
99th Monkey exists to spread the joy of simple, delicious food. That's why we make our products in small batches, carefully sourcing only the finest minimally processed ingredients and hand-filling every jar, which preserves our product's creamy texture and slows down the process of oil separation that occurs in all natural nut butter.
Our salted natural crunchy peanut butter is made with 100% roasted peanuts. Handmade in Australia, without any added sugar & full of protein, our creamy peanut butter is the healthy alternative.

Nutrition

Flat shipping rate of $8 (minimum order $20)
Free shipping on orders over $50
We do not ship to PO boxes or Parcel Lockers

FAQ
| | | |
| --- | --- | --- |
| |  Avg Qty Per Serve | Avg Qty Per 100g |
| Energy | 239KJ | 2390KJ |
| Protein | 2.5g | 24.8g |
| Fat Total | 4.7g | 47.5g |
|    Saturated | 0.5g | 5.4g |
| Carbohydrates | 0.9g | 9g |
|    Sugars | 0.5g | 5.1g |
| Sodium | 19mg | 186mg |
 *Made using equipment that processes peanuts and all varieties of tree nuts. Store in a cool, dry place. Do not refrigerate. Please recycle.
Shipping
Where are your products made?
All of our products are made in small batches in our little factory in Melbourne, Australia.
Do you add preservatives, refined sugars or hidden extras?
Never!! Our ingredients are so simple, we print them in big letters on the front of the jar, instead of hiding them on the back in tiny print like some other brands!
Are your nuts Australian?
We always prioritize Australian nuts where possible. All of the conventional almonds we use are grown right here in Australia (they make up about 80% of all the nuts we use as a business).
Unfortunately the drought in Queensland has meant that there are not enough Aussie peanuts to go around in 2020/21. We hope that we will be able to return to 100% Aussie peanuts in the second half of 2021. You can read more about this in our blog post on the issue:
https://99thmonkey.com.au/blogs/news/shortage-of-australian-peanuts-in-2020.
Why does the system show "doesn't ship to the selected address" when I am trying to place an order?
The minimum order value required for delivery is $20. If the order is lower than $20, it will say that it cannot ship to your address, so please check there is enough in your cart to make up this value.
Do you deliver to PO boxes/Parcel lockers?
Unfortunately, our courier is unable to deliver to PO boxes/Parcel lockers. We only deliver to street addresses.
Where can I purchase 99th Monkey products?
Our nut butters are available in health food stores and independent supermarkets all over Australia.
Our natural almond butter and almond cacao butter are also available in select Coles Supermarkets across Australia (about 650 stores).
If we are not on the shelves of your local store, you can always buy directly from us via our website
https://99thmonkey.com.au/
Do you deliver outside Australia?
Unfortunately we can only ship within Australia at this stage. We hope to get international stockists in the future!
Why is there oil resting on some of the nut butters?
Grinding nuts releases their oils. It's these oils that make nut butter so creamy. As the peanut butter sits, the oil rises and collects at the top. It's actually a good sign of how natural your nut butter is.
What does being carbon neutral mean?
Essentially being carbon neutral means that for every tonne of carbon dioxide we emit as a business, we invest in tree planting to draw the equivalent amount of carbon dioxide out of the atmosphere.
Carbon neutrality is vital if we want to stop and prevent climate change. When we overload the atmosphere with bad chemicals, it can't function properly, and so the air begins to heat up.
Carbon neutrality provides accountability for entities, organizations, and individuals. Humans are the cause of this environmental damage, so it is our responsibility to take action and undo the damage. If we do our part and strive for (or achieve) carbon neutrality, we know we are living our lives in a sustainable way. You can read more about our sustainability efforts here:
99thmonkey.com.au/pages/sustainability
How do I store my 99th Monkey nut butters?
Always store all nut butters in a cool, dry place. Do not refrigerate – it makes them hard to spread.
Are all 99th Monkey products vegan?
Yes. 99th Monkey products are vegan.
How to remove labels from the jars?
Step by step process:
Step 1: Fill jar with water
Step 2: Place jar in microwave for 2 minutes (but not with the lid!)
Step 3: Remove jar from the microwave and place lid back on it (careful - that jar is hot!!)
Step 4: Using the lid as your gripping point, peel label easily from jar
Step 5: Give the jar a wash and voila!!
Satisfaction Guaranteed

Carbon Offset

Secure Payments

Best Price